July 2014
Doctor Craig Garrison joins the show to talks about ACL injury prevention techniques.
The episode opens with a combination Souryal story / business of medicine discussion about insurance, deductibles, and being an informed medical consumer.
Doctor Garrison talks about programs that help screen kids for their susceptibility to ACL injuries and train them to prevent injury. The Doctors also talk about why teenagers are so susceptible to ACL injuries, whether there is are genetic risk factors for these injuries, and how these programs can help improve overall performance.
They also answer questions on shoulder injuries, weight training regiments,  knee replacements, and what people with bone spurs can do to increase their range of motion.
In honor of Inside Sports Medicine's 500th show, Doctor T.O. Souryal gives us his Top Five Innovations in Sports Medicine and Top Five Sports Movies. Doctor Melvin Manning joins the show to talk about being an informed patient and the terminology of sports medicine. The doctors also answer questions on everything from ACL tears, to herniated disks, to clicking knees, to the differences between hernias and sports hernias.
This year it was Marcell Dareus. Last year it was Jacoby Jones. The year before, it was Felix Jones.
Every year, an NFL player fails his pre-season conditioning test, and the sports media—desperate during this yearly lull in the news cycle—gives the player a good ribbing about not taking his job seriously and eating too many Double Stuft Oreos.
Despite all of the hype surrounding the conditioning test, some coaches are starting to recognize that it might not be all that relevant.
As Dallas Cowboys coach Jason Garrett noted, players go through the conditioning test on day one, "and the next day you're on a practice field getting yourself involved in football movements, very different than what that conditioning test was."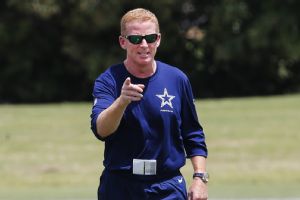 The test can be especially costly for some teams, as the Baltimore Ravens discovered today when defensive back Aaron Ross tore his ACL during the test.
Some coaches are now turning towards sports science to figure out how best to prepare their players for the rigors of a 17-week regular season.
The solution may lie in using GPS tracking technology to quantify players' movements during practice, and utilizing that data to avoid preventable injuries.
Florida State University football coach Jimbo Fisher began using GPS tracking two years ago, and has since reduced the occurrence of soft tissue injuries on his team by 88 percent.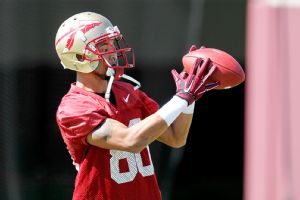 Now the technology has made its way to the practice fields of two prominent, injury-addled NFL franchises—the Cowboys and the Green Bay Packers.
According to the Australian sports scientists who first popularized GPS tracking for practices, the data suggests that teams should gradually increase high-intensity workouts by 10 percent each week until the season begins.
This gradual increase is tough to achieve with the NFL's short, fragmented off-season, but one can still expect to the Packers and Cowboys take it easier on the players during the first few days of camp.
If it works for these two franchises, you can bet that every team will be using GPS tracking by next year's training camp.
Doctor T.O. Souryal is joined by spinal expert Doctor Scott Blumenthal to talk about LeBron James, World Cup Soccer, and spinal injuries. They also discuss unproven treatments that consumers should be wary of. The doctors answer listener questions on knee cartilage, stress fractures, back pain, and more.
Sports medicine accessory companies seem to have gotten the formula down:
 1)      Develop an elegant-looking product along pseudoscientific principles.
2)      Pay athletes to wear it on television
3)      Let the anecdotal evidence, rather than science, sell the product.
This formula has worked especially well for companies like Phiten, whose website vaguely claims that its AQUA-METAL technology "enhances the user's quality of life," but more heavily promotes fluffy YouTube testimonials with big-name ambassadors like Josh Beckett, Justin Verlander, and Curtis Granderson.
Possibly the biggest recent success with this simple formula is KT (or Kinesio) tape, an ultra-durable elastic tape, which, according to the company website, provides lightweight support for your muscles. It seemed like Kerri Walsh of the U.S. beach volleyball team was the only one wearing the tape in the 2008 Olympics. By the 2012 games, everyone from divers to javelin throwers were wearing it. Still, doctors are reluctant to offer full support for the product and a meta-analysis of research on the tape turned up inconclusive.
The formula has most recently worked for Mission Athlete Care's Enduracool towels, whose "radiator-like fiber construction circulates water molecules and regulates the rate of evaporation." After this infomercial featuring Dwyane Wade and Serena Williams, the Enduracool is popping up on the shelves of seemingly every sports store this summer.
However, as Dr. Souryal hypothesized in a recent broadcast, it probably just works because it's a wet towel.  Dr. Souryal also commented "We are very gullible consumers in general and particularly gullible when it comes to pseudo-medical products."  Someone once said that "there's a sucker born every day."  This fact is very true when it comes to over-the-counter medical products. Now I am not saying that everything is worthless, however unless there is science behind it, it most likely will not work any better than a placebo"
There's no signs that says magnets work. There's no science that says crystals work. There's no science that says the towels can cool themselves."
Someone else once said "that a fool and his money are soon parted".
I say "do your homework and save your money."
Ultimately, athletes are a superstitious bunch. If you can convince them that a product will give them an edge over the competition, then they can convince themselves that it works. If they really believe it's working, it probably will work. This is the placebo effect in action, and frankly, it is the most convincing science behind any of these products.
The key here is the placebo effect. If a player believes an accessory will work, it will probably work. If it doesn't hinder performance, why stop using it?
When you discuss an NBA center's legacy, more often than not the discussion leads to his feet. Hakeem Olajuwon and Tim Duncan will forever be remembered for their balletic footwork. Others, like Shaq, Yao, and Bill Walton, will be remembered for the multiple foot surgeries which curtailed their otherwise dominant careers.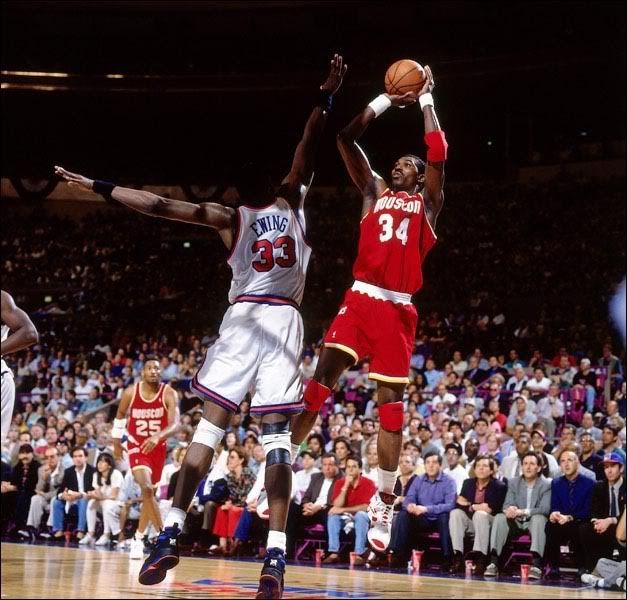 For former consensus number one draft pick Joel Embiid, the discussion started with his Olajuwon-esque footwork. It's hard to watch his pre-draft workout in Los Angeles and not gush at how quick, yet deliberate his every step is:
Unfortunately for Embiid, who just had surgery to repair a stress fracture in his foot, Yao and Walton's doomed feet have entered the discussion. He is now projected to fall out of the top three in the draft. Scouts and GMs figure that if he's already had a foot surgery a few months after turning 20, then his career will inevitably be doomed by more and more surgeries.
But is it rational for the Cleveland Cavaliers to pass him up with the top pick? Maybe not.
The biggest difference is that Yao and Walton had their respective surgeries much later in their careers. As sports medicine surgeon Nick Grosso points out for USA Today, Embiid's bones are still growing, making it much more likely that he experiences a full recovery and will not need another surgery.
Still, he will need those feet to support his 7-foot frame against the hardwood floor for every game and every practice of his career, so it's reasonable to assume that the pick will reduce his overall mileage. It doesn't help that he has lingering back problems and is rumored to have low bone density.
What makes the 2014 draft unique is that there is no huge drop off between Embiid and the three (Jabari Parker, Andrew Wiggins, Dante Exum) that were expected to follow him.
Also, Cleveland is pretty much the only team that really wanted to make the playoffs last year. After a series of questionable lottery choices after Lebron's departure, they don't want to look dumb. They certainly don't want to be like the Portland Trail Blazers in 2007, who, despite injury and unequal leg length risks, took Greg Oden at number one over Kevin Durant and Al Horford, both of whom were pegged as "sure things."
Hopefully, years from now Embiid's name will be more associated with Hakeem than Yao. It would be a shame if we NBA fans were deprived of Embiid's potentially transcendent skill-set.
Doctor Scott Blumenthal joins the show to talk about spinal injuries. The doctors talk about Tiger Woods' back surgery, the prognosis and types of rehabilitation for similar injuries, and why back injuries are so common in golf players. They also talk about the imperfect side of medicine, and the uncertainty that goes along with many procedures.
This episode's segment of Sports Medicine 101 focuses on pulled hamstrings, why they take so long to heal, and treatments.
Doctor Souryal takes rapid fire questions on Joel Embiid's foot surgery, being a Doctor who is second opinions, and the FIFA World Cup.
Callers ask about how people with bone spurs can improve their range of motion, differences in healing for sprained and broken ankles, frozen shoulders, repeated injuries in teenage athletes, treatment options for sports hernias, stress fractures, and more.
Also: how useful is physio tape?
This episode opens with a discussion of recent news, including members of the USA soccer team playing with broken noses., Jozy Altidore's hamstring injury, and Isaiah Austin's Marfan syndrome in NBA. The Doc also talks about the business of medicine and sports products that aren't backed by science.
One of Doctor Souryal's former patients comes on the show to talk about his ATV accident and ATV safety.
This episode's Sports Medicine 101 focuses on patellar knee dislocation, its definition, its diagnosis, and its treatment. Also covered: the differences between patellar instability,  patellar dislocation, and knee dislocation.
Listeners call in with questions about sports hernias, tendonitis, cardiac screenings for athletes, and much more.